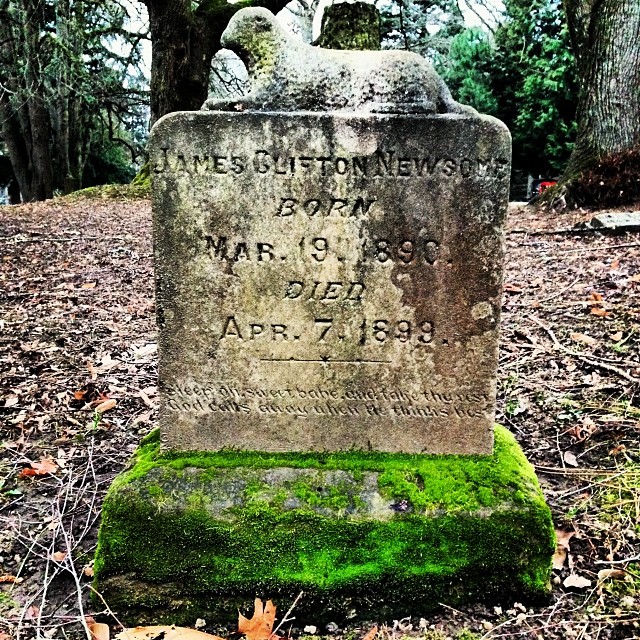 Lone Fir Cemetery has evolved over the years, absorbing several smaller cemeteries that were located throughout Portland and are now a part of the city's business districts. Some of Lone Fir's residents lived before there was any settlement in the area that is now known as Portland, such as Dr. John McLoughlin's daughter, Eloisa and Asa Lovejoy, founder of Portland. Some of Oregon's earliest pioneers are buried at Lone Fir, including Julia Bybee from Sauvie Island and Anna Cullen, who was the last survivor of the famed Applegate Wagon Train in 1843. Called The Great Migration, it began a river of immigration which lasted for decades.
As visitors stroll through Lone Fir, names on headstones are the same as the names of many bridges, parks and streets throughout Portland: Hawthorne, Northrup, Thurman, Lownsdale, Banfield, Sellwood, Dekum and MacLeay to name a few. A number of Oregon Territorial Government representatives, mayors, governors, senators, and industrial barons are buried throughout Lone Fir.
As Portland grew, not only were many people moved from cemeteries on the west side of the Willamette to Lone Fir, but many people were also disinterred from Lone Fir and transferred south to the more fashionable Riverview Cemetery, west to the Mt. Calvary Catholic Cemetery and sometimes as far east as China to the deceased's birthplace.
When the former monastery on Stark Street was converted into Central Catholic High School, some from the small cemetery there were moved into Lone Fir, as well.
Lone Fir Cemetery is home to every sort of person ever in Portland, from the honored and famous to the notorious, insane, artistic, visionary, suicidal and egotistical. Suffragists, leaders in science and medicine, freed slaves, early Jewish settlers to recent Eastern Europeans, all represented. Come visit this fascinating and diverse "history park."