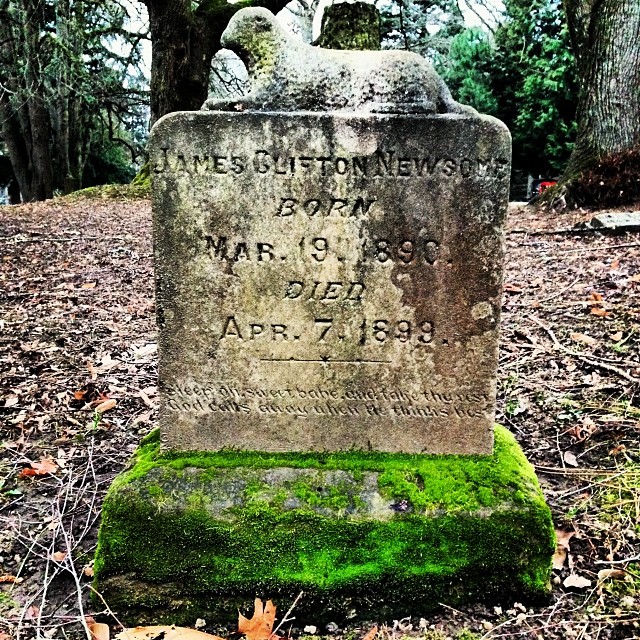 Each and every person buried at Lone Fir Cemetery has an interesting story to tell and Friends of Lone Fir Cemetery is always seeking to learn more about the 20,000 plus souls resting in the cemetery. The following list will introduce you to some of our more famous, infamous, and colorful residents.
Mary Drain Albro = She researched Oregon Trail pioneer roses and installed the Pioneer Rose Garden in Block 22; is buried in Rose City Park Cemetery.
Elizabeth Barchus = She painted dramatic landscapes of Mt. Hood, Columbia Gorge, and Oregon coast, and is called "Oregon's Artist." Block 32/ Lot 7/Grave 3N
Aurelia Barrell = A young mother of two when her first husband died on the Oregon Trail, she drove on alone. She married Colburn Barrell and named the cemetery Lone Fir. Block 1/Lot 1/Grave 3N
Colburn Barrell = He was descended from Mayflower pilgrims and Joseph Barrell (who sailed with Captain Gray who discovered the Columbia River). He owned steamship "Gazelle" when its steam engine blew up killing 24 people. He buried two of the victims on his land which became Lone Fir Cemetery. Block 1/Lot 1/2N
Cornelius Beal = He was a rare divorce attorney from early days. His Donation Land Claim was Council Crest. Block 18/Lot 5A/Grave 3S
William Beck = He was a pioneer gun merchant and advocated for the first bridge on the Willamette River (Morrison). Block 1/Lot 47/Grave 3S
Angeline Berry = She was a founder of the Humane Society, Good Samaritan Hospital, and YWCA. She donated land for Grace Episcopal Church. Block 8/Lot 46/Grave 2N
John Bird = He was an early pioneer (1852) and a well-known baseball pitcher in the 1870s. Block 16/Lot 32/Grave 1N
Edward Blackwood = He was an early scenic photographer and owner of the Portland Camera Exchange in the 1920s. Block 35/Lot 238/Grave 2N
Chloe Donnelly Boone Curry = Great-granddaughter of Daniel Boone, daughter of Alphonso Boone (owner of Boone's Ferry on the Willamette River), and wife of George Curry (Oregon Territorial governor). She was the first teacher in Oregon (not in a mission). Block 6/Lot 75/Gr 2N
William Bond = He manufactured matches and descended from the Plymouth Colony. Block 8/Lot 45/Gr 2S
Earl Bronaugh = He was a lawyer and judge, and descended from French Huguenots involved in the Revolutionary War. Block 4/Lot 66/2N
Archie Brown and James Johnson = They were hanged for murder and buried together. Block 9/Lot 36/3S
Valentine Brown = He was a realtor and poet. His shattered stone restored by FLFC. Block 8/Lot 36
M. Burton = He was the father of Georgiana Pittock and the architect of cast iron buildings. He was moved to Riverview Cemetery from Block 6/Lot 5/3S
Julia Bybee = She was an early pioneer of Sauvie Island. Block 1/Lot 92/2N
Harriet Biddle Campbell = She was the last survivor of the Jason Lee Methodist Party, the first missionary group to convert Indians in the Oregon Territory. Block 2/Lot 29/2N
Julius Caesar = He was a blind ex-slave who loved baseball and wore a Prince Albert coat top hat. Block 19/Lot 231/3N
Dr. Willliam Caples = He was the first practicing physician in Portland. Block 16/Lot 31/2S
Dr. James Cardwell = He was the first resident dentist. With his first wife, Cornelia Bloomfield Cardwell, was one of the founders of the Humane Society. His second wife, Mae Harrington Cardwell, was the first woman to hold a position on a hospital staff in Oregon. He was an important apple breeder. Block 1/Lot 3/1S
Finice Caruthers = He held a Donation Land Claim and his Pioneer Water Works brought clean water to downtown Portland. His mother, Elizabeth Caruthers Thomas, was the first woman in Oregon to hold land in her own name. Portland's city park in the South Waterfront District is named for her. Block 1/Lot 30/3N
William Cason = Was a charter member of the Bricklayers' Union and built many of Portland's unreinforced masonry buildings. Block 7/Lot 17/1S
Charlotte Terwilliger Moffett Cartwright = Her mother died on Oregon Trail. She was a student in Portland's first school, and a tireless worker for causes such as the State Pioneers Assoc., State Equal Suffrage Assoc., and Forestry Club Sacajawea Statue Assoc. She was a charter member of the Portland Women's Club. Block 2/Lot 10/2S
Dr. James Chapman = Portland Mayor for three terms. Block 7M/Lot 7/3S
Col. William Chapman = Early Land Donation Claim owner in downtown Portland and politician. Block 7M/Lot 7/1S
James Chichester = Former asylum patient. Block W/Lot 48/2N
Edward Clayson = He was the father of Dr. Esther Lovejoy and an activist against hypocritical prohibitionists. Block 34/Lot 131/1S
Steven Coffin = He was the first fire warden and builder of the first school and first plank road to Tualatin. Block 1/Lot 46/3S
George Edward Cole = He was a Portland postmaster. Block 6/Lot 61/2S
Anna Hembree Cullen = She was a member of the first Applegate Wagon Train in 1843 and was its last survivor. She and her husband, John, founded the Oregon Pioneers Association and their children began the Sons and Daughters of Oregon Pioneers. Block 2/Lot 8/2N
Thomas Cully = He was a pioneer (1845) and a stonemason who built Portland's first brick chimney for Francis Pettygrove. Block 1/Lot 2/1N
George Law Curry = Governor Oregon Territory. Block 6/Lot 75/2N
Martha Dalton = Suffragist who worked with Abigail Scott Duniway and Dr. Esther Lovejoy. Block 6/Lot 56/2N
Frank Dekum = German confectioner who became the builder of Portland's first large brick building and went on to build most of early Portland. The Dekum Building was built of all-Oregon materials. Block 18/Lot 2H/2N
Crawford Dobbins = He died in the "Gazelle" ship explosion and was buried on his friend Barrell's land. It was dedicated as Mt. Crawford Cemetery but later renamed Lone Fir Cemetery. Block 1/Lot 1/2S
Anna Eliza Drake = She was a pioneer whose home was the first in town to be built of saw-cut lumber. Block 6/Lot 4/3S
Thomas Dryer = He was a Whig/Abolitionist who was the first owner-editor of The Oregonian newspaper and the first to climb Mt. Hood. Block 3/Lot 19/1S
Andrew Dufur = He was the Commissioner from Oregon to the Philadelphia Centennial Expo in 1876. His family owned land in Eastern Oregon and the town of Dufur was named after them. Block 7M/Lot 32/1N
Fred Dundee = He is the grandson of pioneer Clinton Kelly. He worked in Portland's first auto repair shop, was a steam mechanic racecar driver on dirt tracks, and was the founder of Portland Auto Union. Burial site unknown
Paul Ebbinghausen (Lind) = His headstone is a replica of scrabble board. Block 26/Lot 30
Adelia Cutting Elliott = She suffered from depression because of many family deaths, including the Elliott wagon train disaster of 1855. She was hospitalized in Dr. Hawthorne's Asylum twice and released twice. Burial site unknown.
William Evans and Dr. John Wells = Wells treated his friend Evans for typhoid and then became infected. They are buried together. Block 8M/Lot 53/1N
Samuel Francis = He was a pioneer (1852), established a plant nursery near Oregon City, and sold the plants at George Abernethy's store in Oregon City. Block 36/Lot 62/1S
James Frush = He was a saloon keeper at the establishment owned by Colburn Barrell. The urn sat on the bar and toasts were made at Christmas. It was placed at his grave and returned to the bar each Christmas to toast Frush. Block 2/Lot 16/3S
Emma Gotcher = She was a laundry worker who won a Supreme Court case limiting womens' work hours. Block 34/Lot 44/3N
Eloisa McLoughlin Rae Harvey = She was the daughter of Dr. John McLoughlin and known as the "Princess of the Columbia." Block 8/Lot 3/3N
John Haelen = He was a nationally recognized illustrator and worked for The Oregonian newspaper. Block 38/Lot 69/3S
Dr. James Hawthorne = He owned and directed the Oregon Asylum for the Insane and was recognized for his progressive and kind treatment of residents. He buried 132 patients at the cemetery. Block 8M/Lot 44/1N
George Himes = He was a historian, founder, and long-time curator of the Oregon Historical Society. He wrote the Oregon history for Lewis and Clark Exhibition guidebook. Block 39/Lot 40/3S
Harvey K. Hine = He was a Methodist minister, educator, territorial legislator, editor, and author. Block 20/Lot 15/3S
Frederick Von Voorhies Holman = He was an attorney and involved in the Portland Rose Society, Rose Festival, and the Oregon Historical Society. He was the first to call Portland the "City of Roses." Block 71/Lot 27/3S
Capt. Richard Hoyt = He worked in the gold rush and built a river trade, spending the rest of his life in Oregon waters. Block 3/Lot 11/3N
Simeon Josephi = He built the Port of Portland Commission and was the Dean of University of Oregon Medical College. Block 6/Lot 49/2S
Henry Krimbell = He was a Fire Chief killed in line of duty and buried in the Firemens' Cemetery. Burial site unknown
Eric Ladd = He was a historic preservationist and local actor. See Bosco Milligan Foundation. Block 8M/Lot 246
Charity Lamb = She was the first woman sentenced to the state penitentiary after killing her abusive husband with an axe. She was transferred to the Insane Asylum and lived fifty years there. Burial site unknown
Harry Lane = He is the great-grandson of General Joseph Lane. He was a beloved Portland mayor and founder of the Rose Festival, and a U. S. senator who voted against the country entering World War I. Block 9/Lot 51/1
General Joseph Lane = He was Oregon's first senator. Cenotaph Block 21/Lot 14/1S
Julius Logus = He was a meat merchant, a member of the Knights of Pythias, and a grand marshal at many parades. All Portland businesses closed for three hours to honor him when he died. Block 2/Lot 20/1N
Asa Lovejoy = He was the co-founder of Portland who lost a coin toss to name the city (wanting it to be Boston, Oregon). He founded the first telegraph company, the Oregon City Woolen Mills, and the first Masonic Lodge in Portland. Block 8M/Lot 50/2N
Dr. Esther Lovejoy = She was an international figure known as the "Doctor to the World." She was a doctor, suffragette, the first female director of Portland's Health Department, and the first director of Medical Women's International Association. Block 34/Lot 132/1N
Daniel Lownsdale = He was one of the "Portland Trio" who was instrumental in developing Portland. He had the only tannery in the Oregon Territory where Providence Park now stands. Block 1/Lot 24/1S
Donald Macleay = He was a Scottish businessman (banking, wheat, lumber, salmon, shipping) who invested profits in Portland's growth. His family donated Macleay Park and Bishop's Close, and the Clan Macleay pipe band is named for him. Block 17/Lot 3/Mausoleum
Martha Macleay = She was a progressive philanthropist who was married to Donald for seven years. She died in childbirth and her husband built the mausoleum to honor her. Block 17, Lot 3/Mausoleum
Sarah Ann McClincy = She was an Asylum patient originally buried in Block 14 and later moved. Block 11/Lot 23/1S
Emma Merlotin = She was a well-known prostitute who was murdered just before Christmas. Her eyes were removed for forensics to see if they held the image of her killer. Block 20/Lot 18/2S
Michael Mitchell = He was a great jig dancer who became drunk one night and froze to death. His headstone has, "Here lies one who has taken steps That won the applause of man, But grim death came and took a step Which he could not withstand." Block West/Lot 64/1N
Julius Caesar Moreland = He was a Multnomah County judge and real estate developer. Block 7M/Lot 29/3S
Rev. W. Morris = He was an Episcopal minister who founded St. Helens Hall and Good Samaritan Hospital. Morris Street is named for him. Block 8/Lot 59/1S
Seldon and Hiantha Murray = They held a Donation Land Claim that included the east portion of the cemetery and married for a bigger claim. She was the daughter of Dr. William Caples. Block 22/Lot 42/1N
Shubrick Norris = He held many positions in city government and was a businessman who fought against Thomas Dryer, The Oregonian newspaper editor. Burial plot unknown
Alice Oberle = She was a famous "Fancy Lady" prostitute with 6,000 lovers, and her sister Flora was her madam. Alice died in 1884 of cirrhosis of the liver and her customers purchased the Celtic cross with a cenotaph and inscription. Flora died in 1889. When their sister, Marie Sauvie, died in 1911, her family had their disreputable aunts moved to Mt. Calvary Cemetery and had the cenotaph and inscription removed. Block 13/Lot 17/3N Celtic Cross
Walter "Jiggs" Parrot = He was the first professional baseball player from Oregon for the Chicago Cubs. He died of consumption (tuberculosis) at the age of 26 and was given the largest funeral in Portland. Block 33/Lot 44/3S
Briggs Peterson = He was a Mason and his stone informs that "I have solved the mystery." Block 8M/Lot 46/1N
Georgiana Pittock = She was captured by Indians as child on the Oregon Trail. She married Henry Pittock and was the founder of the Rose Festival. Her body was moved to Riverview Cemetery.
Robert Pittock = He was the brother of Henry Pittock and a grocer. Other members of the Pittock family were moved to Riverview Cemetery. Block 1/Lot 37/2S
Dr. Perry Prettyman = He was a horticulturist who brought dandelions to Oregon for medicinal properties. He was moved to Lincoln Park Cemetery.
Earl Riley = He was a colorful mayor with many corruption and scandals. His father built the original Canyon Road. Block 8/Lot 47/2S
Dr. William Royal = He was a Civil War surgeon. Block 7M/Lot 4/1N
Irwin Sanburn = He was a famous river pilot from the Columbia River to Alaska and survived a boat explosion which killed 34 people including his father-in-law. Block 24/Lot 36/1S
Officer Charles Schoppe = He was the first police officer killed in the line of duty. Block 10/Lot 53/1S
Emmor Stephens = He was buried on his son's Donation Land Claim in 1846, on land that later became Lone Fir Cemetery. Block 1/Lot 18/3S
James Bowles (J. B.) Stephens = He was a cooper, building barrels for Hudson Bay Company. When the trees were logged, he platted his claim into business and home sites. This area became the town of East Portland and he became its first mayor. He owned the ferries that crossed the Willamette River from Portland to East Portland. He was the original Donation Land Claim holder of land presently Lone Fir Cemetery. Block 1/Lot 18/2S
Joseph A. Strowbridge = He was a pioneer merchant , founder of the Portland Library Association, an early agitator for bridges in Portland. Block 18/Lot 1F/3S
Gideon Tibbetts = He ran a flatboat on the Mississippi River and built a flour mill on his Donation Land Claim where the Brooklyn rail yard is now. Block 7M/Lot 20/1N
WW Thayer = Lawyer, governor, Supreme Court justice. Block 22/Lot 47/3S
Dr. Minh Van Tran = The unique "dragon ball" stone is set as a pearl in a ring and covered with dragons. Block 26/Lot 11
Socrates Tryon = He was a Portland Mayor. Tryon Creek Park is named for him. Block 10m/Lot 11/1N
James Turk = A famous Shanghai captain who shanghaied his own son. Block 13/Lot 12/3N
Captain William Warren, Co. A  26th Ohio Infantry, U.S.A.; G.A.R. & O.N.G. = One of more than 250 Civil War veteran burials in Lone Fir. Block 20/Lot 219/1N
Capt.Daniel Wright = He went to the California gold rush. He loved the redwoods and had four placed at the corners of his grave. Block 4/Lot 70/3N
Thomas and Sarah Lucas Wells = Came to Portland from New Orleans, sailing around Cape Horn in 1868. Originally from England, Thomas fought with the 4th Louisiana Infantry Battalion and was wounded at the Battle of Chickamauga. Block 38/Lot 96/1S & 2S