Volunteers Needed for Tour of Untimely Departures!
Volunteers Needed for Tour of Untimely Departures!
Presented by Metro with support from Friends of Lone Fir Cemetery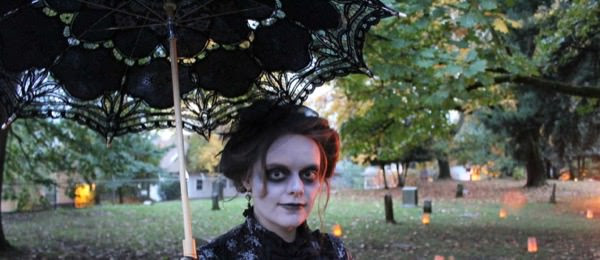 Volunteers are needed now for the Tour of Untimely Departures at Lone Fir Cemetery. All positions are available; actors, guides, set up, and logistics, starting now and up to the evening of the event, Saturday October 28th. We need you on the team to make this popular Halloween event amazing. You will help protect the cemetery while learning about Portland history and having fun.
For more information and to sign up please contact J Swofford at jswofford@abnormalimage.com

Volunteer opportunities available (listed in order of time/experience requirements from most to least). Please contact us for details:
Set Up:
The weeks and days leading up to the event are full of preparation. Often folks with one of the other assignments will also help with Set Up. On the actual day of the event we'll get started early in the morning. Some folks will work all day. We'll need make up artists and all kinds of logistical help.

Actors:
Dress in costume as a cemetery resident from long ago and tell your tale of untimely departure to groups of 20 as they stop by your grave site. You will get to create a first-person story approximately 4 minutes in length based on facts, articles, photos and information provided to you by our team. Here is your chance to make history (again!) by sharing your tale! 

Tour Guides:
Dress in costume and act as historical tour guide (basic script provided, with some facts and figures for 'chatting') for a group of 20 guests as you set out through the cemetery on a 45 minute tour. Guides stop at different gravesites to listen to the actors, provide bits of history and general information, while answering questions and having fun.

"Tails" for Tour Guides:
In costume, 'tails' keep the group together, follow along and act as the second tour guide…answering questions and sharing information as you move the group from site to site.

Greeters
Dressed in costume, greeters welcome guests, provide information and help set up tour logistics as folks get on their way. Help at the front gate or the exit with the flow of visitors on this special night.

Ghouls
In costume, "ghouls" roam the cemetery re-lighting candles and torches, checking on actors, giving breaks, monitoring gates and lurking around groups to provide a bit of frightful ambiance for guests. The ghoulish catch-all helpers of the evening.

Logistics Volunteers
Help set up and/or take down tents, tables, candles, torches. Assist our site maintenance coordinators with all of the little and big details that help set the stage for this night to function without a hitch.
Gate
Seeing 1200 people, some with pre-sold tickets and some buying tickets walk up, all of them will need help. We'll have long lines that need organizing with questions that need answering. We'll also need folks to queue up groups of 20 guests for the Guides to lead every 8 minutes. 

Musicians/Entertainers
Do you love to perform? Or have a skill to share? Lend a bit of ambiance to the tours. Station yourself, or wander the grounds. Contact us for more information on shift options.

Friends? Family? Sign up together as Tour Guide/Tail combination and share the duties of the night. Team up with your club or group to become Ghouls or Greeters. Actor friends? Share a role and support each other with breaks. Enjoy your Halloween together a fun, unique way for a good cause! Proceeds from this event go towards the historic preservation efforts at Lone Fir Cemetery.

For more information and to sign up please contact J Swofford at jswofford@abnormalimage.com
---