Lone Fir Cemetery History
James B. Stephens purchased a land claim for $200 held by John McLoughlin at Fort Vancouver. The claim extended from the east bank of the Willamette River to present day Southeast 23rd and from Stark Street to Division Street. Stephens' father, Emmor Stephens, died in 1846, shortly after they arrived in Oregon, and was buried on the family farm. In 1854, Stephens sold the farm to Colburn Barrell with the promise that he maintain Emmor's grave.
A businessman with a number of ventures, Barrell was an investor in the steamship Gazelle, which exploded in Canemah in April 1854. Twenty-four of the fifty passengers perished, including Barrell's partner, Crawford Dobbins, and his friend D. P. Fuller. Barrell moved the two men from a downtown cemetery to plots near the Stephens family plot and set aside ten acres for a cemetery, naming it Mount Crawford.
The ten acres were platted into lots in 1855. A block was donated to the Fire Bureau in 1862 and two were sold to the Masons. IN 1865, thirteen more acres were purchased and then seven more the next year, bringing the cemetery to its present size of thirty acres in 1866.
Barrell tried to sell the cemetery to the City of Portland but the deal was refused because it was considered too far from town at the time. When the City refused, a group of Portland families and plotholders purchased the land for $4,000 and incorporated it as Lone Fir Cemetery, a name suggested by Colburn Barrell's wife Aurelia in honor of the solitary fir tree on the land.
In the early days, there were four small cemeteries in what is now downtown Portland. All of the deceased from these cemeteries were moved to Lone Fir. Later, many from St. Mary's Catholic cemetery were moved to Lone Fir when it was converted to Central Catholic High School. Their at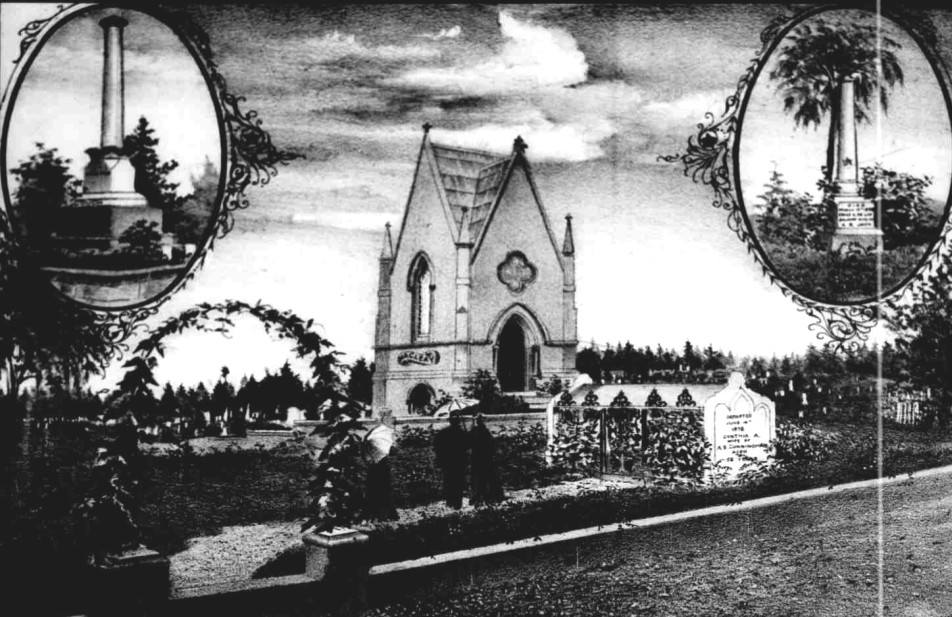 hletic field is referred to as the "Bone Yard" to this day. For more than forty years, every burial in Portland occurred at Lone Fir until Riverview Cemetery was established in 1893.
No money was set aside for perpetual care and the cemetery gradually fell into disrepair. By 1928 it was covered with blackberry mounds and there were 10,000 unknown graves. Prior to the 1870s, there were few stone markers and the wooden ones had rotted or were destroyed in one of several fires in the cemetery.
Today, Lone Fir Cemetery is one of the oldest cemeteries in Portland and the largest of fourteen historic cemeteries managed by Metro regional government.
Movies
A number of movies include scenes filmed at Lone Fir Cemetery. These include:
Hours and Directions
Lone Fir Cemetery is open to the public 365 days of the year from dawn to dusk. Cars enter the cemetery on Southeast 26th Avenue between Stark and Morrison streets. It can also be accessed by TriMet bus 15.

Map
Metro's website provides maps of the cemetery. Click here and scroll to the bottom of the page.

Other Information
Pets are not permitted on cemetery property.
Metro's website provides information about people buried at Lone Fir and its thirteen other pioneer cemeteries.
Burial Information
Chestnut Grove Memorial Garden opened in 2013 to provide an option for those choosing to be cremated.
Contact Metro
Mail: Metro Historic Cemeteries, 600 NE Grand Avenue, Portland, Oregon 97232-2736
Phone: 503.797.1709
Email: cemetery@oregonmetro.gov
Website: www.oregonmetro.gov/cemeteries