Each and every person buried at Lone Fir Cemetery has an interesting story to tell and Friends of Lone Fir Cemetery is always seeking to learn more about the 20,000 plus souls resting in the cemetery. The following list will introduce you to some of our more famous, infamous, and colorful residents.
Dr. James Hawthorne = He owned and directed the Oregon Asylum for the Insane and was recognized for his progressive and kind treatment of residents. He buried 132 patients at the cemetery. Block 8M/Lot 44/1N
Martha Macleay = She was a progressive philanthropist who was married to Donald for seven years. She died in childbirth and her husband built the mausoleum to honor her. Block 17, Lot 3/Mausoleum
Frank Dekum = German confectioner who became the builder of Portland's first large brick building and went on to build most of early Portland. The Dekum Building was built of all-Oregon materials. Block 18/Lot 2H/2N
Other Notable Business Leaders
Asa Lovejoy = He was the co-founder of Portland who lost a coin toss to name the city (wanting it to be Boston, Oregon). He founded the first telegraph company, the Oregon City Woolen Mills, and the first Masonic Lodge in Portland. Block 8M/Lot 50/2N
Other Notable Politicians and Public Servants
Francis H. McCormick – Portland Firefighter Francis H. McCormick, of Truck 1, died in the line of duty on August 15, 1919.  McCormick was at a fire at the foot of SW Lincoln Street when a hose line knocked him off of a trestle.  He fell about 30 feet, hitting his head.  He died later that morning.  He is buried in the Firefighter's Section (Block 5) Grave South 107.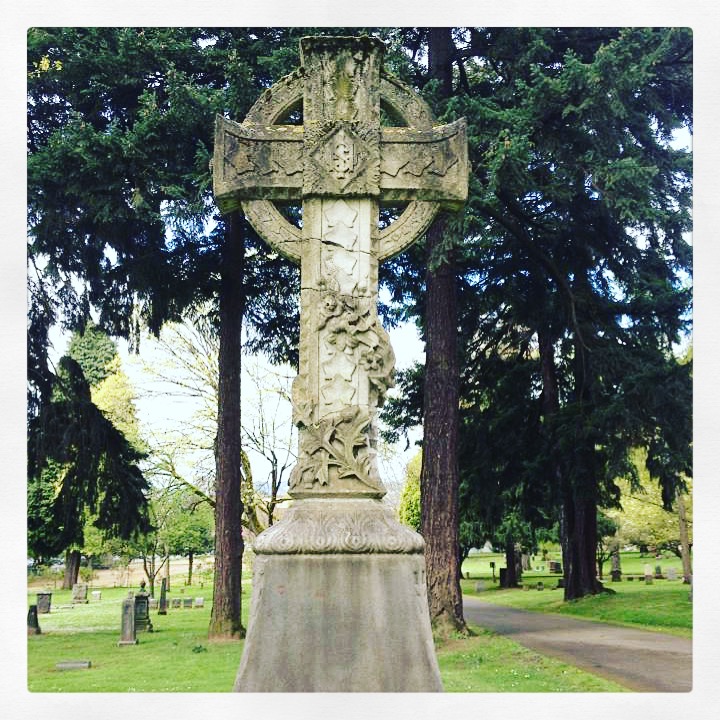 Alice Oberle = She was a famous "Fancy Lady" prostitute with 6,000 lovers, and her sister Flora was her madam. Alice died in 1884 of cirrhosis of the liver and her customers purchased the Celtic cross with a cenotaph and inscription. Flora died in 1889. When their sister, Marie Sauvie, died in 1911, her family had their disreputable aunts moved to Mt. Calvary Cemetery and had the cenotaph and inscription removed. Block 13/Lot 17/3N Celtic Cross