Mary Drain Albro = She researched Oregon Trail pioneer roses and installed the Pioneer Rose Garden in Block 22; is buried in Rose City Park Cemetery.
Elizabeth Barchus = She painted dramatic landscapes of Mt. Hood, Columbia Gorge, and Oregon coast, and is called "Oregon's Artist." Block 32/ Lot 7/Grave 3N
Aurelia Barrell = A young mother of two when her first husband died on the Oregon Trail, she drove on alone. She married Colburn Barrell and named the cemetery Lone Fir. Block 1/Lot 1/Grave 3N
Angeline Berry = She was a founder of the Humane Society, Good Samaritan Hospital, and YWCA. She donated land for Grace Episcopal Church. Block 8/Lot 46/Grave 2N
Chloe Donnelly Boone Curry = Great-granddaughter of Daniel Boone, daughter of Alphonso Boone (owner of Boone's Ferry on the Willamette River), and wife of George Curry (Oregon Territorial governor). She was the first teacher in Oregon (not in a mission). Block 6/Lot 75/Gr 2N
Julia Bybee = She was an early pioneer of Sauvie Island. Block 1/Lot 92/2N
Harriet Biddle Campbell = She was the last survivor of the Jason Lee Methodist Party, the first missionary group to convert Indians in the Oregon Territory. Block 2/Lot 29/2N
Charlotte Terwilliger Moffett Cartwright = Her mother died on Oregon Trail. She was a student in Portland's first school, and a tireless worker for causes such as the State Pioneers Assoc., State Equal Suffrage Assoc., and Forestry Club Sacajawea Statue Assoc. She was a charter member of the Portland Women's Club. Block 2/Lot 10/2S
Anna Hembree Cullen = She was a member of the first Applegate Wagon Train in 1843 and was its last survivor. She and her husband, John, founded the Oregon Pioneers Association and their children began the Sons and Daughters of Oregon Pioneers. Block 2/Lot 8/2N
Martha Dalton = Suffragist who worked with Abigail Scott Duniway and Dr. Esther Lovejoy. Block 6/Lot 56/2N
Martha Macleay = She was a progressive philanthropist who was married to Donald for seven years. She died in childbirth and her husband built the mausoleum to honor her. Block 17, Lot 3/Mausoleum
Dr. Esther Lovejoy = She was an international figure known as the "Doctor to the World." She was a doctor, suffragette, the first female director of Portland's Health Department, and the first director of Medical Women's International Association. Block 34/Lot 132/1N
Emma Gotcher = She was a laundry worker who won a Supreme Court case limiting womens' work hours. Block 34/Lot 44/3N
Eloisa McLoughlin Rae Harvey = She was the daughter of Dr. John McLoughlin and known as the "Princess of the Columbia." Block 8/Lot 3/3N
Anna Eliza Drake = She was a pioneer whose home was the first in town to be built of saw-cut lumber. Block 6/Lot 4/3S
Georgiana Pittock = She was captured by Indians as child on the Oregon Trail. She married Henry Pittock and was the founder of the Rose Festival. Her body was moved to Riverview Cemetery.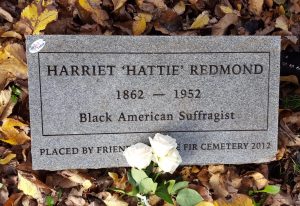 Harriet Redmond = The famous African-American suffragist from Oregon, Hattie Redmond, was born Harriet Crawford in 1862, or 1863. Her parents were slaves, Reuben Crawford, her father, was a rope-maker and later a ships' caulker, and her mother was Vina Blue. Hattie, being the oldest of eight children, helped her mother in caring for her siblings, as the family made frequent moves from the East Coast, then to St. Louis, San Francisco, and finally settled down in Portland, Oregon around 1880.