My Summer as a Goth Benefit Screening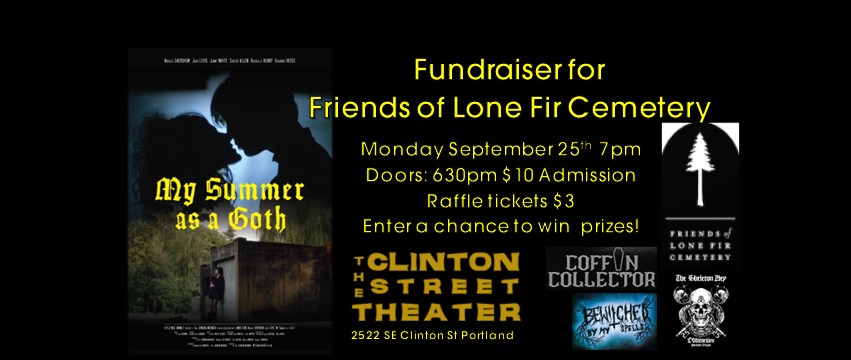 Join us for a special fundraiser screening to benefit non-profit group Friends of Lone Fir Cemetery, which restores, preserves, and leads tours about the historic park and burial ground, resting place of some 25,000 graves with as many as 10,000 unknown.
Doors are at 630pm and showtime is 7pm- arrive early to buy raffle tickets! Tickets are $10 and can be purchased at the Clinton Street Theatre website.
In addition to the screening of this local film which showcases not only local talent but Lone Fir Cemetery as a primary filming location we will have raffle tickets for sale to win a chance to win awesome prizes.
Raffle prizes will include a pair of tickets for our Tour of Untimely Departures, Friends of Lone Fir Cemetery swag and donated prizes from The Skeleton Key Odditorium, Coffin Collector, and Bewitched By My Spells.
The film synopsis:
Filmed in Portland, including scenes in the cemetery, MY SUMMER AS A GOTH (2018) is a coming-of-age story about the sometimes painful, often entertaining search for identity and love in adolescence. In her search for love and acceptance, 16-year-old Joey falls for the interesting Goth boy next door and allows herself to be transformed.
Purchase tickets here.
---